OnePlus 9
OnePlus 9 Pro: Why an experience and not an evaluation? I didn't want to write a "review" of a device that I have vivid emotions about and have constant thoughts about. Unfortunately, onePlus 9 Pro – is precisely that device. The first in the series, which I used as the main and only one, is much deeper than all the previous ones.
I'm related to OnePlus nine reviews, but I always balance my opinion with a neutral stance in tech reviews. This material will not be like that; it is not a review. This stuff is purely my thoughts, emotions, and impressions.
Video about the OnePlus 9 Pro
Here are sample photos and videos, as well as some interesting facts that you might like.
Price
Briefly about the price – it's pretty high on official stores, but very lovely on PixoPhone. That is all you need to know because there is no point in giving details; the dollar jumps like a deer with worms.
Oneplus, In General
In general, I'm too afraid to connect with technology emotionally. However, I couldn't walk away from this ASUS ROG Flow X13.
And the funny thing is that I considered this smartphone safe regarding emotions. I NEVER wanted a OnePlus; I never felt these devices when choosing a smartphone. But I don't think I had, and now some acquaintances gave up the iPhone for this brand five years ago. That is, people are delighted, and I understand them.
They just sold me the OnePlus exclusively as a speedy smartphone. And trembles in the mask; this device is fast. It's just that speed isn't essential to me. Opportunities are important to me. So I'm completely blown away to the point of hysteria, for example, from MIUI, in terms of the number of chips – this… created a revolution. And now you're going to say that quantity is unimportant because you don't use everything. And that's the Apple approach, so I'm not going to buy myself any iPhones.
The more chips in the device, the more interesting it is to use and get serotonin just because you found a shell option you didn't know about and that fits you like a tuxedo tailored for you – well, sorry, it's pretty cool. Second, the more chips your device has, the more likely you are to find a set that meets your needs rather than adapting your needs to your device.
Within the framework of proper expectations because even iOS sometimes has bugs. And yes, the OnePlus 9 Pro has a lot of features. Admittedly, there are fewer of them than on MIUI, but they are enough to leave me not satisfied but calm, shall we say, which is fine.
It is me leading to the fact that OnePlus has always will sake to me, not what's important to me. I didn't see a raisin on the brand I liked. I thought the velocity vector was the only focus of the device, and all other aspects would suffer.
Pleasures
The screen here is fantastic. 120 Hz, AMOLED, the resolution is sufficient. As you can see, I don't care about PWM or exact numbers. What's here is enough, that's all.
Cameras of OnePlus 9 Pr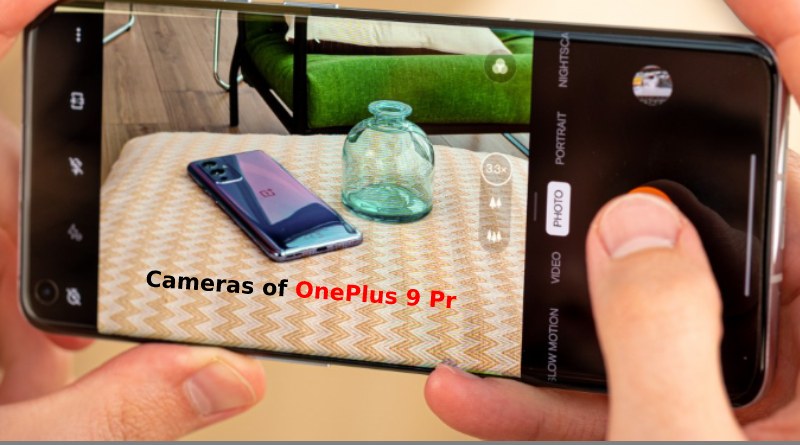 I'm delighted. As disappointed as I was with the OnePlus 9, I am excited about the OnePlus 9 Pro. OnePlus nine review
Even Though.
Elsewhere, the camera is fantastic. 8K footage, which is still important to me, stabilization is excellent; I started actively using slow motion footage for the first time in my life; macro shots are beautiful, dynamic range is enough, shoots quickly and reliably.
Also Read: Google Pixel 6a: Full Guide
OnePlus 9 Pro battery
I noticed that I stopped worrying about charging. The OnePlus 9 Pro supports 65W via cable, which means I plugged in, sat down to work, and unplugged, and the smartphone will charge enough to be happy.
Autonomy is good, the smartphone lasts all day without a single problem, and I use it both as a player and as a camera control panel, and I watch many movies. I don't play anything, nothing, so the battery charge is usually small – but constant. Have in mind.
Compliment
And in the end. Most of all, I was surprised that the OnePlus 9 Pro is not just fast but consistently fast. In other words, don't hang, don't hang, don't hang. Never. It's the most stable smartphone I've ever owned and will probably work just as well if I buy an iPhone X. And
Disadvantages Of The Oneplus 9 Pro
As for the problems, there are some of them. The shell is optimized and fast; from what I understand, it was even faster for some reason. However, I blame her for not being able to control the Yongnuo YN-300 III LED light cluster. They are in the same group, but I can only manage one at a time.
And it shouldn't be like that because the previous one was my Xiaomi smartphone group controlled without a single problem.
Oneplus 9 Pro Summary
So this is my conclusion, which I keep in mind. OnePlus are smartphones that I will consider as an option in the future. The OnePlus 9 Pro is a smartphone I would buy myself with no problem.
I want a memory card, which is not here; I would like a camera under the screen – but I understand that I am not expecting these innovations from this brand. But today, no smartphone satisfies 100% of my needs. As such, a laptop does not exist.
Also Read: Drone Motors Hot – Some Regular Issues