Social networks are platforms where people can consume others' content for free, share it, and connect with others through likes, comments, and private messages. Essentially, these platforms' primary objective is to connect people. The internet has allowed sharing of information with anyone, anytime, anywhere.
And social networks have facilitated the sharing of information and communication with others. To promote this interaction between people and between people and brands, social networks can assume different functions, from informing to entertaining or selling.
When someone creates an Instagram profile, they might want to keep it private to communicate with friends. But, on the contrary, when making a public profile, the possibilities are immense! Who knows if you will create a community that appreciates your content and follows you closely?
A public profile on a social network allows you to share your work, inspirations, art, and daily life, which can interest a large group of people. In addition to communicating with your friends, you can use social media to make new friends, increase your business sales, find good job opportunities or build your brand.
What Are The Main Social Networks?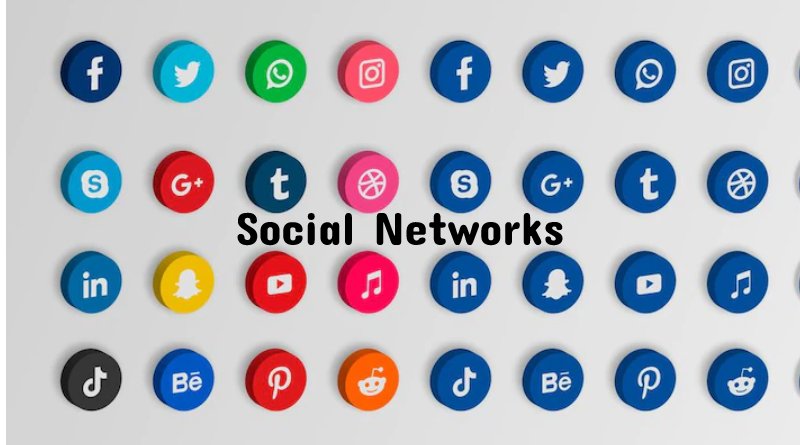 Facebook
Instagram
twitter
LinkedIn
Youtube
Pinterest
Messenger
Whatsapp
Types Of Social Networks
Social Relationship Network
Relationship networks are the most used.
Their main objective is to bring people together and create bonds between them.
Whoever thought of Facebook got it right.
The platform is the most used in the world, and although can use it for different needs, the focus remains, in fact, on the relationship between users.
It serves to make new friends, meet old ones, keep in touch with family and colleagues, etc.
Social Entertainment Network
These are networks focused on content dissemination. Obviously, and not infrequently, they can also be networks where people interact with others (friends or strangers), but that is not their focus.
The best example of this type of social network is Youtube.
You know those social networks you access when you have some "downtime" and want to entertain?
These networks are entertainment social networks, as their name implies!
Professional Social Network
Nowadays, with the internet, it is easier to expand our professional visibility, and there are social networks characterized exclusively by this: LinkedIn is the case.
On LinkedIn, users can put everything that characterizes them as professionals: their academic and professional background, where they are currently working, their jobs, and much more!
In addition, it is also possible to connect with other people in your area, commenting on their publications or approaching them through private messages.
You can find job openings, network, find out about news in the area, other people's job updates, etc.Website Builder
Niche Social Network
Also known as a segmented social network, it aims at more specific audiences.
TripAdvisor, for example, is an excellent example of a niche social network
In this network, users can simultaneously see travel tips and evaluate the various services, exchanging information with others.
This type of social network is beneficial, especially for companies, as it allows for a more direct dialogue with customers and potential customers and to know their opinions about the services
Advantages of Social Networks
The use of social networks will absorb people all over the world and is now part of our routine.
Social networks are now where brands and companies are also present, interacting with their customers and potential customers.
Here are some advantages that social networks bring:
Share the company's vision and culture
social networks are a great way to make the company's culture and values ​​known, which can strengthen the public's relationship with it;
Personalization of the message and direct interaction with the customer
allow a more natural and personalized relationship with each customer or potential customer, as you can get in touch with each one, whether to solve problems or ask for feedback, for example;
Possibility Of Audience Segmentation
Most social networks allow you to segment ads according to the audience's characteristics, so you won't be wasting time and money to reach people with no interest in your products.
Disadvantages Of Social Networks
Compromised Privacy
Social networks have become stale for sharing our lives with hundreds of people.
It only takes a brief "visit" to someone's profile to find out who their friends are, where they study, where they live, and, in some cases, where they are right now.
Sometimes this information can reach the wrong people, who take advantage of it to plan robberies and other criminal or at least unpleasant actions.
 Exposure Of Confidential Data
Nowadays, to create a profile on a social network or make some online registration, it is customary to be necessary to provide some personal data to companies or strangers.
It causes us to lose often control over the fate of our information, which can end up scattered on the internet.
Also Read: Magnesium Alloys – Definition, Classification, And More